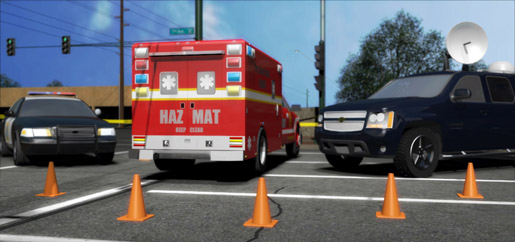 The Virtual Table Top – VTT™ is a web-based tool for conducting enhanced table top exercises.  Facilitators and users can import custom background images, place terrain features, roads, hazards, and equipment on a 3D street grid to visualize the scenario and response actions.
Call or email today for a free Trial - vtt@mediatechinc.com or call 641-856-8052

Click here for an interactive overview of VTT™
Free: Training
Economical: Lower operational and training costs
Cost-Effective: No wear on resources or ancillary costs
Efficient: Increase number of fully trained personnel
Effective: Improve and maintain necessary level of skill
Comprehensive: All-Hazards, All-Agencies applications
Relevant: Train for 21st Century threats and priorities
High-Impact: Experience instills maximum retention
Customizable: Easily create objectives-based exercises
Practical: Gain experience using familiar scenes
Repeatable: Train and retrain for enhanced performance
Convenient: Train regularly with no operational disruptions
Measurable: Objective scoring and assessment
Compliant: NIMS, HSEEP, OHSA
Secure: Train confidentially in a protected environment
Safe: Protect your most valuable assets – your People
Call or email today for a free Trial - vtt@mediatechinc.com or call 641-856-8052
The Easiest, Most Effective
Way to Visualize Your
Disaster Plan

Economically Priced (as low as $500 for your whole organization)
SIGN UP TODAY TO START YOUR
FREE TRIAL
 vtt@mediatechinc.com
or call 641-856-8052
Plan, Prepare, and Train with VTT™
Our Virtual Table Top – VTT™ revolutionizes the tabletop exercise, giving you the power to visualize scenarios, injects, and participant responses quickly and effectively. Includes 100s of custom objects for visualizing emergency scenarios and fully localized situations. Airport, Chemical/Biological Attack, Earthquake, Fire, HAZMAT, Arson/Sabotage, Flooding, Pipeline Explosion, Hurricane, Pandemic, Active Shooter, Tornado/Wind shear, Train Derailment/wreck, Hostage/Intruder, Major Event Planning, After Action Reviews and more.
—Ask about educational pricing and discounts for county, regional and state level purchases—